Concrete Polishing and Grinding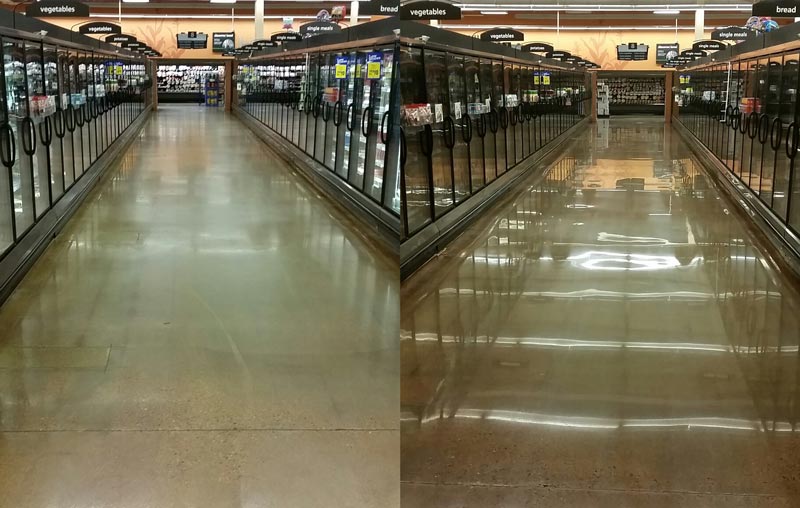 Concrete floors are becoming very common in new buildings due to their durability, ease to maintain and beautiful looks. No wonder why more and more grocery stores, warehouses, factories and even home owners choose polished concrete floors as the most practical flooring solution. At AM Facility Services we offer various types of concrete polishing services to fit your needs. You can contact us by clicking here for an expert quote.
---
CALL US TO DISCUSS YOUR NEXT PROJECT!
AM Facility Services is a concrete floor polishing and rejuvenation company that's trusted by businesses from small to large. We take pride in our work and always strive to exceed our customers' expectation. If you have a project to discuss and are looking for the company that will do the job right from the beginning, give us a call!

---
Among retail outlets & residential property owners, the concrete floor is becoming the floor of choice. A professional concrete polishing and grinding service uses high-quality equipment & expertise to polish concrete floors and provide high gloss to them. As a result, you get a high-gloss finish that doesn't need any kind of wax.
Let's take a deep dive into concrete polishing and grinding to learn everything about it.
What Exactly Is Polished Concrete?
A concrete surface after grinding & polishing is called polished concrete. With heavy-duty grinding machinery, the concrete surface is grinded to a level until it gives the desired shine & smoothness. As a result of grinding, the surface becomes very smooth and dust-free.
Generally, concrete polishing contractors are hired for concrete floor polishing. They have the heavy duty machinery and expertise to offer concrete floor polishing services.
All types of establishments can take benefits from concrete floor polishing. However, it's generally used in warehouses, retail outlets, wide halls, auto showrooms, and homes.
Benefits Of Concrete Polishing 
There are several practical & design benefits of concrete polishing. Polished concrete floors don't just look great, they last very well too! Which is why it has become a very popular practice. Let's look into its benefit for both commercial properties and residential properties.
Benefits for residential properties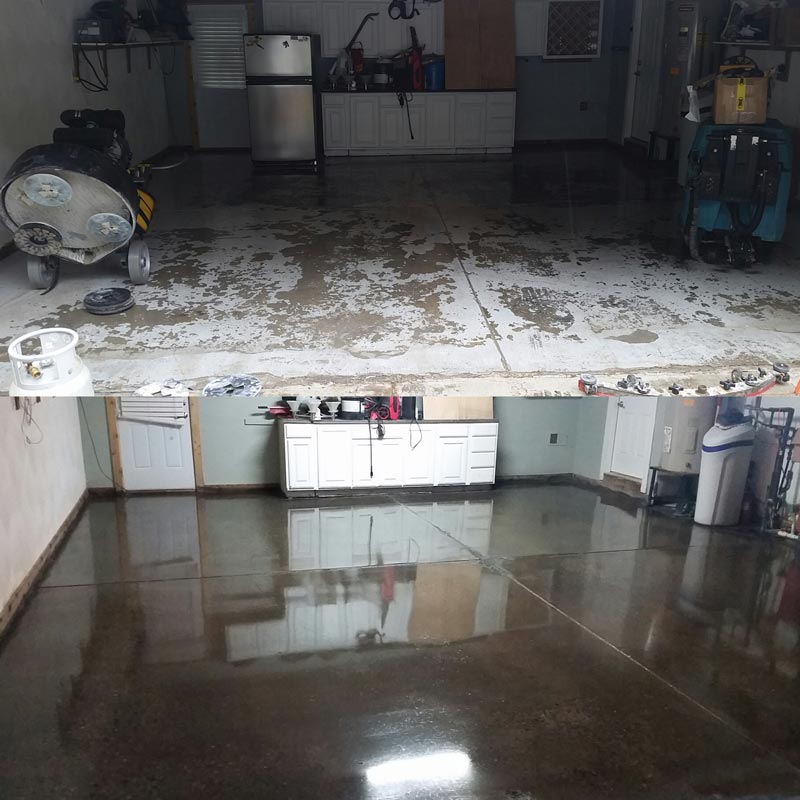 Cost-effective
Flooring is a costly part of home construction. If you don't have a generous budget, then going with concrete floor polishing is ideal. Apart from being a low-cost investment, it offers cost-saving benefits in the long run as well.
Concrete floor polishing offers high ROI by reducing energy & maintenance costs. Polished concrete is highly reflective and improves ambient lighting. As a result, you don't need waxing time after time to keep it in the best condition.
Longer life
Apart from being cost-effective, polished concrete has a longer life cycle. Unlike other flooring materials, concrete isn't vulnerable to damage. So it means that you don't need to perform replacement or repair work as often as you would with other flooring. Concrete grinding and polishing involves quite a few steps  which are necessary to ensure the strength and durability of the floors. From shaving off contaminated surface and imperfections to feeding concrete with densifier, closing off the pours and applying a sealer.
This stack of steps makes sure that your polished concrete floors will look great even if they process a high amount of foot or heavy machinery traffic. When you hire a reputable concrete polishing contractor that grinds and polishes your floors correctly, the floors become very resistant to staining, chipping and cracking. The better processes are used, the less you'll need to spend on maintenance in the long run.
Easy maintenance & cleaning
Even after spending a huge amount of money on luxury flooring, the cost of maintenance and cleaning stays high. However, this isn't the case with concrete floor polishing. Because it gives a highly smooth and shiny surface, it stays dust-free, and the cleaning becomes easier.
When concrete floors are grinded and sealed correctly from the beginning, they become resistant to spills as well. Even though it is highly recommended to pick up any spills as soon as you notice them, polished concrete floors that were done correctly from the beginning do not usually stain even after spills have been sitting on them for a while.
A wide variety of designs & colors
Polished concrete flooring isn't only practical, but it has design elements too. There's a wide variety of colors and designs available in the market. You can choose color & design that syncs perfectly with other design elements of your interior.
When you choose the right concrete polishing contractor, they help you choose the color that's right for you. Some concrete surfaces already have a nice color to them, but some look plain gray. If that's your floor, you might want to consider adding a color dye into your concrete polishing or concrete restoration mix. Darker colors will give your floors an even better mirror like deep look.

Benefits For Commercial Properties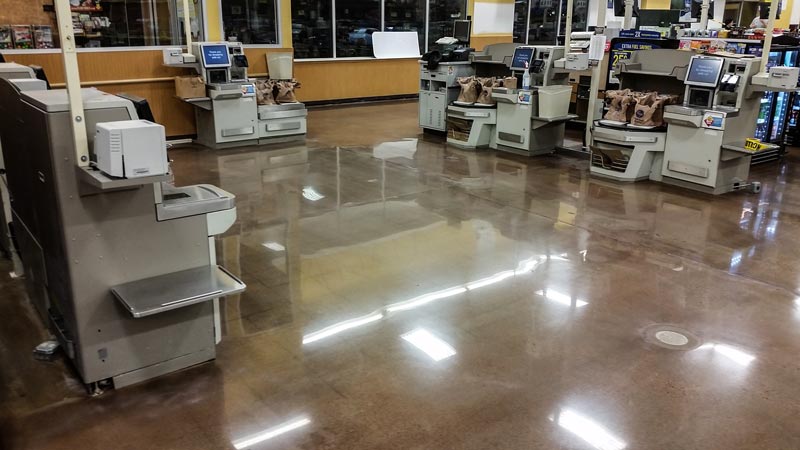 Better for offices with high foot traffic
Investing in luxury flooring for your office might not be the best choice considering the high foot traffic. With a polished concrete floor, you don't need to spend a huge amount of money on its maintenance and cleaning. Concrete floor polishing makes the floor more resistant to high foot traffic.
Lower maintenance cost
Concrete floor polishing increases the practicality of a floor and prepare it for high use. Polished concrete is easy to clean, and there's almost no maintenance cost. You don't need to wax it or use high-end polish solution to keep its sheen. Polished concrete floors lower the associated labor cost. If it's a warehouse and forklift trucks keep entering and exiting, then there's nothing to worry about tire marks. Concrete floor polishing prepares the floor to resist tire marks.
High reflectivity
Concrete floor polishing is very beneficial for offices, hotels, showrooms, and public centers where bright lighting is necessary. Polished concrete is highly reflective which increases the effectiveness of your lighting. In the world of concrete a lot of customers want very high gloss. High gloss floors have a mirror like finish and look very luxurious.
The darker the floor is, the deeper the look gets. If you want your floors to have a very luxurious, deep, mirror like look, you should ask your concrete polishing contractor to add the dye into the mix. You will then be asked to pick the color of your liking.
Reduces the tire wear
For the best results, hire one of the highly professional concrete polishing contractors. Polished concrete is highly beneficial for warehouses. Natural concrete has an uneven texture that causes the tires to wear & tear more than polished floors. Concrete floor polishing even the texture of concrete and reduce the wear & tear of forklift trucks' tires.
It is important to keep your concrete floors dry at all times due to the increase in slip possibility. Part of the reason why concrete floors are so durable is the low friction factor. However low friction paired with water will result in more slippery conditions.
No shutdowns
Concrete floor polishing doesn't involve the use of any toxic or hazardous chemicals. The cleanliness and polishing process doesn't require you to shut down your office, plant, or warehouse. You can get back to work as soon as the process completes.
How Is Polished Concrete Floor Installed?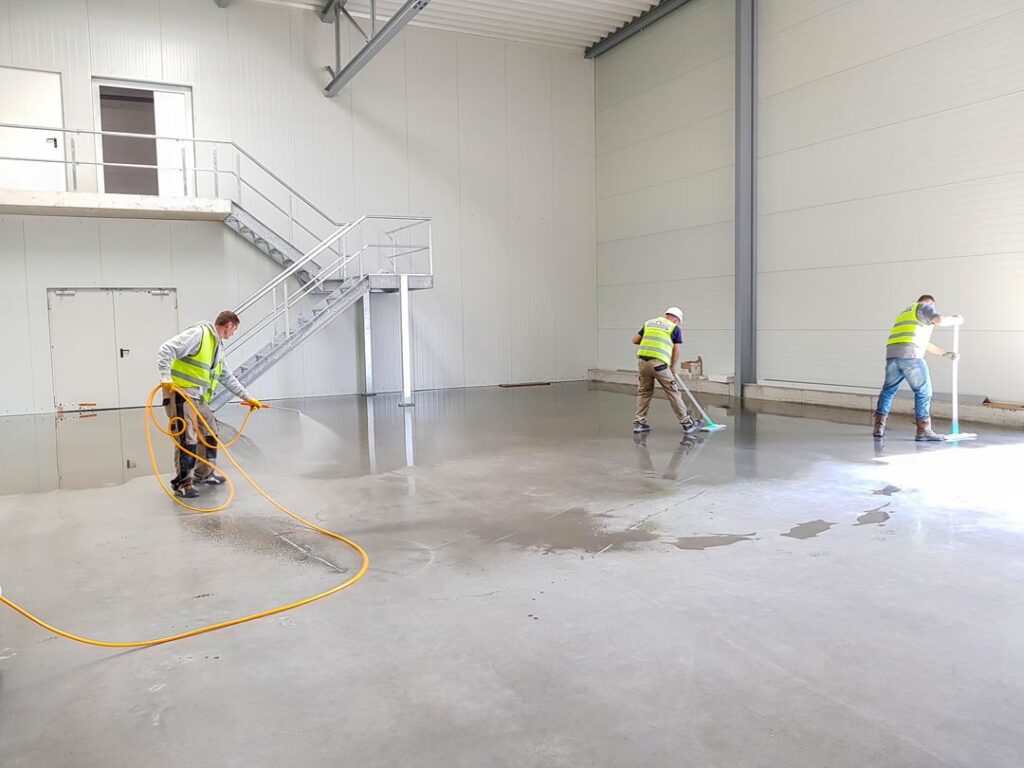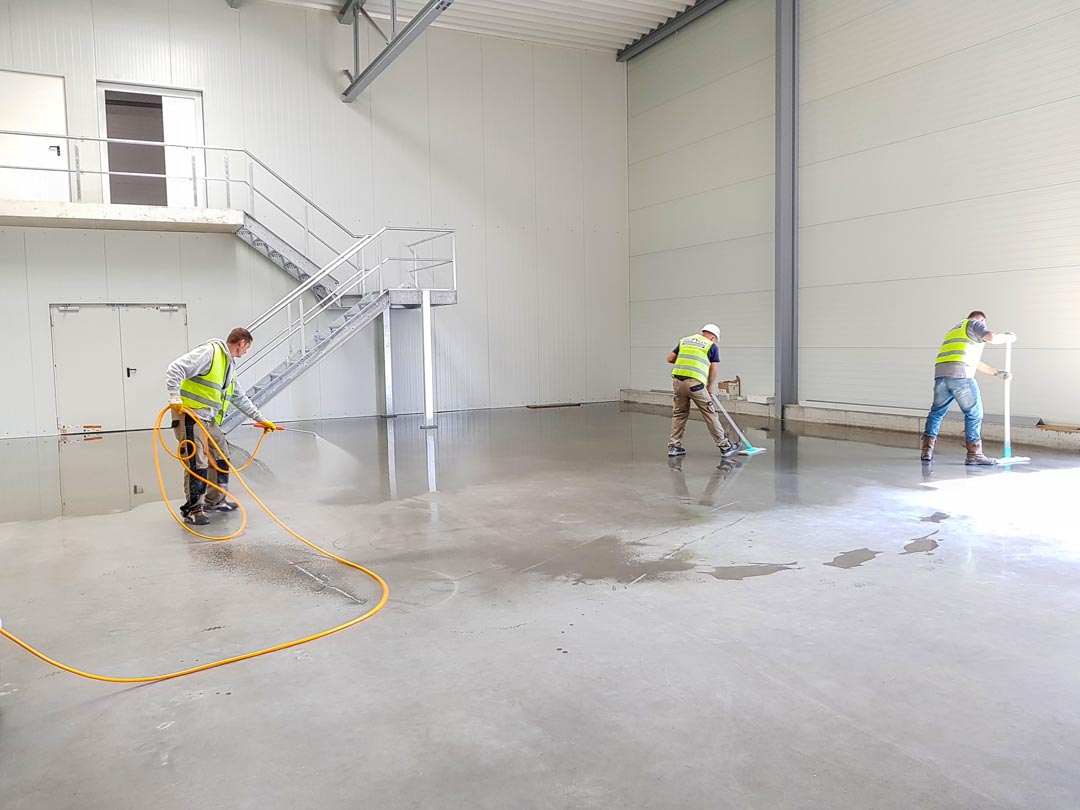 Typically, the "flooded bay" method is used when pouring and finishing the floor. It takes 5-6 steps to complete a concrete floor polishing project.
First of all, the mixture is created. Then, using the "flooded bay" method, the mixture is poured on the floor. To strengthen the structure, a mesh of steel & fibres is used. The purpose is to prevent the cracks in the floor. The time takes to complete the pouring job depends on the length of the area and the workforce working on site. It can take anywhere between 1-3 days to complete this part of the project.
After pouring the mixture on the area under consideration, laser, rakes, and vibratory screeding machines come into play. This equipment is used to level the surface.
Now comes the polishing part. If you hire one of the best concrete polishing contractors, you get high-quality work because they use a heavy-duty grinder to grind the surface. After grinding the complete surface, a transitional hybrid tool is used to remove the tool marks. It helps to remove the impressions left on the concrete floor from grinding.
After polishing the floor, sealing work starts. The sealing part is the final cleanup of the surface using a non-abrasive cloth. It helps to remove debris from the surface. The sealer is applied using a sprayer. This one particular part requires an extra bit of cautiousness from the workers. To ensure that nothing comes in getting a mirror-like sheen, the area is sealed properly.
When done with the sealing work, the area is left to dry properly. It doesn't take much time to dry up the area. Typically, it takes around 30 minutes.
The key to getting a high-quality concrete floor polishing, a combination of right tools & right professionals, is mandatory. For the best results, hire professional & reputed concrete polishing contractors only.
When Should Polished Concrete Floors Be Installed?
Ideally, you would want to install polished concrete floor before installing the doors and door tracks. If you're building from scratch or installing to an extension, make sure to get the concrete floor polishing before installing the doors & door tracks.
It doesn't mean that you can't install the concrete floor after installation of these elements. However, the risks of inconsistencies on the floor increase when doors & door tracks come in the way.
To ensure that contractors can easily move on-site, 10mm thick brick foam should be installed to the floor perimeter.
Ideally, partitions walls & kitchen parts should be constructed on top of the polished concrete floor. However, if it's a renovation work, then you can't do much about it. In this case, ensure that you've hired the best concrete restoration contractor who can work well despite these hindrances.
Is It Hard To Maintain Polished Concrete Floors?
The best thing about the polished concrete floors is their durability and easy maintenance. Unlike other flooring material, the polished concrete floor is relatively easier to maintain.
You don't need to do anything extra-ordinary or expensive to keep the polished concrete floor in its best condition. Routine maintenance like cleaning and mopping the floor is enough to maintain it. Because of its shiny & smooth nature, you can easily remove dust & debris from the floor.
The exact upkeep regimen & cleaning frequency depends on the foot traffic that the floor experience.
How To Improve The Slip-Resistance Of Polished Concrete Floors?
Concrete floor polishing gives a mirror-like smoothness and sheen to the floor. However, you can easily walk on it. There's nothing to worry about being slipped over the polished concrete floor. The polished concrete floor is less slippery than waxed floors.
To improve the slip-resistance of polished concrete floors, follow the below guidelines:
Typically, polished concrete floors are slippery when they're wet. Therefore, don't keep it wet. If water or any other liquid spill over the floor, mop it as quickly as possible to prevent slip-and-fall accidents.
You can use anti-slip products, which increase the traction of polished concrete floors.
Generally, the areas near flowers, freezers, and frozen food containers are wet. Make sure to mop such areas regularly to prevent slip-and-fall accidents.
Wet Or Dry Concrete Polishing?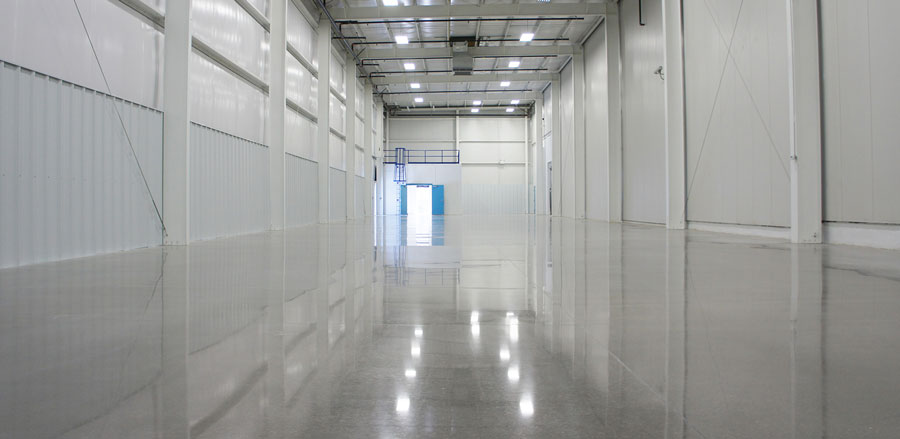 Wet or dry concrete polishing? It's a frequently asked question by the clients. Before every concrete floor polishing project, customers inquire about which one is best and most suitable for their property.
It's not a straightforward decision. A few things come into consideration before finally opting out one of them. It depends on the concrete floor condition, surrounding environment, and the desired look. However, any of the best concrete polishing contractors would use & recommend a combination of both.
Wet Polishing
Wet polishing is the oldest method of concrete floor polishing. If it's a natural stone that needs polishing, then wet polishing is mostly used. However, it has been determined that dry polishing produces more shine.
During wet polishing, water is used as a lubricant to run the machine smoothly—however, the slurry water produced as a by-product that needs to be taken care of. Workers are assigned to get rid of slurry water that requires more workforce and slows down productivity as well.
Dry Polishing
On the other hand, dry polishing requires no water. During the initial phase of the grinding, wet polishing machinery is used to grind most of the concrete. When the surface becomes smoother and appropriate for the wet grinding, the workers change the blades from metal-bonded to the diamond abrasive for fine grinding and more sheen & smoothness.
These days, some contractors complete the whole process using resin-bonded disks to finish the project with dry polishing only.
Applying Dyes To Polished Concrete Floors
Concrete dyes can be used to bring vibrance to your polished concrete floor. Concrete dyes are available in a wide variety of color pallets. The best part of concrete dyes is that they don't cause any chemical reactions with concrete. Concrete dyes penetrate and bring vibrance to the floor and make it look more glossy & colorful.
Unlike acid-based-stains, dyes create color tones that sync perfectly and produce uniformness. However, a professional and experienced concrete restoration contractor can produce interesting color variations.
Both commercial & residential properties can take benefit from concrete dyes. They are available in both water & solvent-based forms.
Concrete dye vs. stain
The primary difference between concrete dye and stain is how they react with concrete. Dye doesn't reach chemically with concrete and penetrate porous surfaces to produce results. On the other hand, stain chemically reacts with calcium hydroxide present in concrete and produce color on the surface.
Dyes are preferable for indoor concrete only because they are not resistant to UV rays. Stains can be used for both indoor & outdoor use because of their UV resistant nature.
When it comes to colors, dyes are better than stains. Dyes are available in a wide variety of colors and can be used in stores, offices, and other commercial properties. They can create bold designs and graphics.
Can I Polish The Concrete Floor By Myself? 
Yes, if you're a professional with expertise and tools required to polish the concrete floor. No, if you just want to take it on as a challenge and do not have the tools or proper training.
Concrete floor polishing is a highly specialized work that requires you to have the experience and equipment to polish the floor. There are a lot of technicalities involve in polishing the concrete floor. Therefore, you may not want to invest your time, energy, and money you're unaware of. The best choice would be to hire a professional concrete restoration contractor or one of the best concrete polishing contractors in your town.

What To Consider Before Hiring One Of The Concrete Polishing Contractors?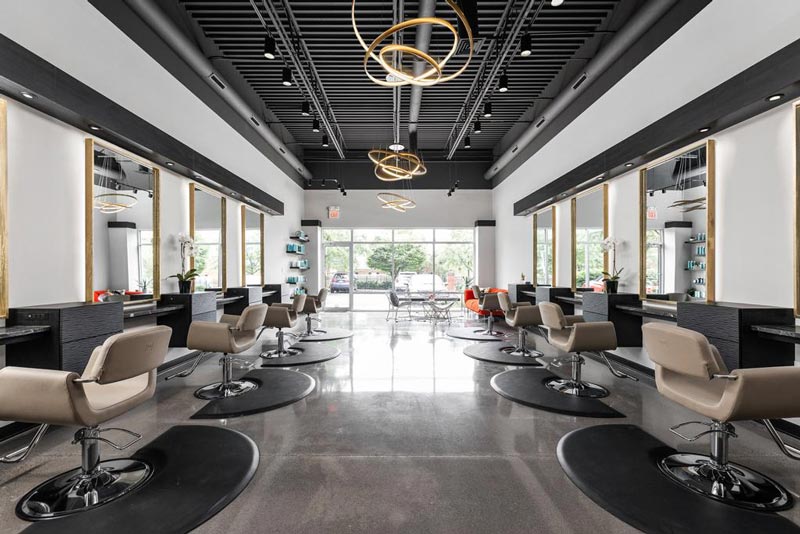 Do you know hiring a professional concrete polishing contractor can make a difference? If you are considering installing polished concrete inside or outside your property, make sure to hire one of the best polishing contractors.
Below are some considerations that you need to make before choosing a concrete polishing contractor.
Reputation
The first and foremost thing to consider is the reputation of the company. You may not want to hand over such an important project to a bunch of workers with a bad reputation. They may deliver a good job, but the chances of getting your project ruined are high. Therefore, always make sure that you're hiring the best professionals for your concrete floor polishing.
The best way to assess their reputation is to go over the website and social media pages to read customer reviews. Access their previous clients and inquire about their services.
Thankfully, we're a reputed business with highly trained professionals that provides 100% satisfaction and peace of mind.
Experience
Experience is another important consideration. You may not want your project to be done by a company with no experience. So make sure they have an established name in the industry and considerable experience to handle your project.
We are one of the most experienced concrete polishing contractors in your neighborhood. So if you have a concrete floor polishing project, look no further and get in touch with us.
Project cost & duration
With reputation and experience, another thing worth considering is the project's cost and the time taken to complete the project. A professional contractor always offers a comprehensive project quote, and that's what we offer as well.

Results
Since your ultimate goal is to get high-quality work against the time & money you invest. Therefore, it's unavoidable to look at their previous projects. Before hiring a concrete floor polishing contractor, request to see their portfolio. Once you're satisfied with their previous results, you can hire them.
We hope the information contained in this guide gives answers to most of your questions. For any queries, you can get in touch with us.
You can review our Better Business Bureau profile here: AM Facility Services on BBB.
Next, you can contact us to schedule a call to discuss how we can help: Contact Us.
However if you are looking for a different kind of service besides concrete polishing contractor service, we provide the following: