Polished Concrete Floors Cleaning, Maintenance & Restoration Services
As beautiful and shiny as polished concrete floors look after they are freshly finished, after some time they start wearing down and lose the shine and depth to them. Our professional crews are highly trained to restore and clean various types of concrete flooring. If you have concrete floors that need cleaning or want to protect its finish, our concrete polishing contractor service can help you. We know what it takes to remove debris and stains accumulated over the years. We can give your floors a glossy shine that has great mirror-like look that last.
Our company has the skills, equipment, and tools necessary to take on any concrete flooring project. Whether you run an industrial warehouse, commercial office, retail store, medical clinic, or food processing facility, we can help you. We specialize in bringing the shine back to the old concrete floors as well as brand new builds.
Are your warehouse floors dusty? We will clean them up. We take old coatings and adhesives out of concrete and prepare the floor for various other uses. If your floors need sealing-up, we can help at that too. Our company has the equipment and tools necessary to create a high-gloss concrete floor in any setting. After we rejuvenate your floors, we provide scheduled maintenance services to keep them looking good.

Concrete Polishing Contractor Services
Concrete floors are a popular and superior option for commercial and industrial buildings. They are extremely resilient and able to withstand heavy machinery, traffic, and equipment. In fact, concrete is capable of taking on forklifts, shipping containers, cranes, trucks, and cars in bulk. They are manufactured to be heavy-duty. Stained and smooth concrete flooring is commonly seen in retail stores, offices, boutiques, and trendy restaurants.
Because of its durability, concrete can also be hard to damage. Many objects that are dropped on the floor will not scratch or chip the surface due to resistance built through our concrete hardening processes. Concrete floors are more resistant to stains which will leave it lasting longer than other types of flooring.
There is a reason why more and more companies are switching to concrete floors. VCT tiles, for instance, need to be stripped and re-coated often or they start looking yellowish. Meanwhile, concrete floors only need to get resurfaced every few years. Some are known to last up to 20 years. The biggest factor to concrete floor longevity is foot and machinery traffic as well as spills or mechanical damage.
Commercial Epoxy Flooring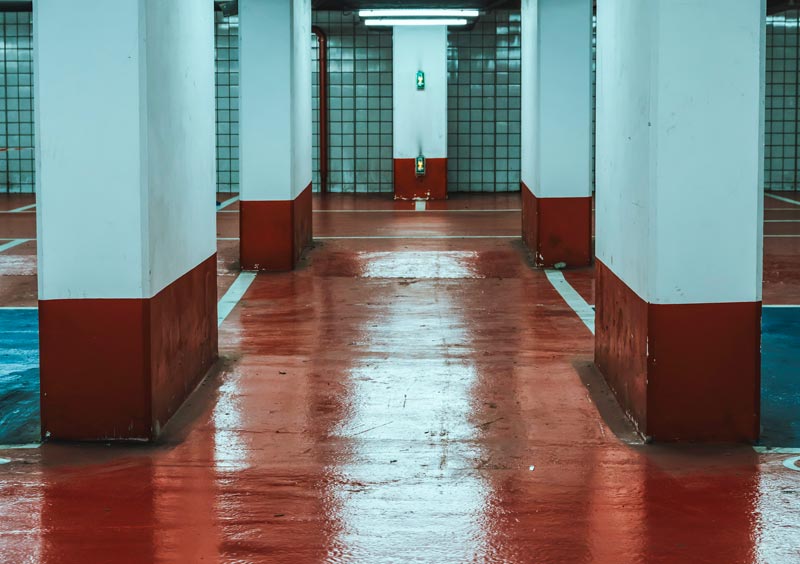 The substrate known as epoxy is sometimes added to a concrete floor. In addition to adding a protective layer it also safeguards the floor from potential abrasion, chemical, and water damage. Waxes and seals protect the concrete substrate's porous surface in order to keep chemicals and moisture out.  In fact, even if it isn't professionally maintained, epoxy floors can retain their functionality for up to two decades.
If you manage a commercial building that endures sufficient chemical and water spills, then epoxy would be a worthwhile investment to keep your floors protected. Chemical plants, pharmaceutical buildings, warehouses, car shops, and medical labs are several commercial properties that utilize epoxy.
Natural Stone Commercial Flooring
Stone floors enhance the elegance and glamour of any commercial property. All the layouts, colors, and textures they come in can optimize professional spaces with the right mix of durability and beauty. Marble, for example, has been used worldwide for several decades, mostly because of its mirror-like and polished look. As luxurious as it is, though, natural stone look softer in comparison to conventional epoxy and concrete floors. They also aren't as resistant.
Natural stone flooring may sustain stains, dents, and traffic over time from insufficient maintenance, heavy traffic, or accidents. Fortunately, you can reverse such damages and revitalize the floors. This is particularly recommended for grocery stores, banks, hotel lobbies, restaurants, and other establishments.
Commercial Terrazzo Flooring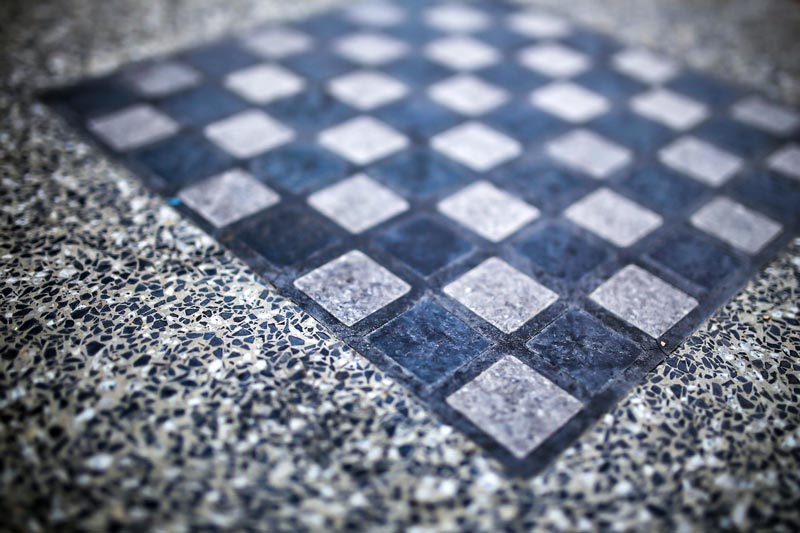 Terrazzo floors combine concrete's durability, epoxy's water-resistance, and natural stone's flavor into a single package, which enhances commercial properties everywhere.
Terrazzo tiles have several different settings, styles, and color pallets you can pick from. Out of all the flooring selections out there, terrazzo provides the most flexibility. Whether that involves color mosaics representative of an educational facility's mascot or monochromatic floors in commercial gyms, terrazzo can be used to produce creative appearances.
Polished Concrete Floors Grinding and Polishing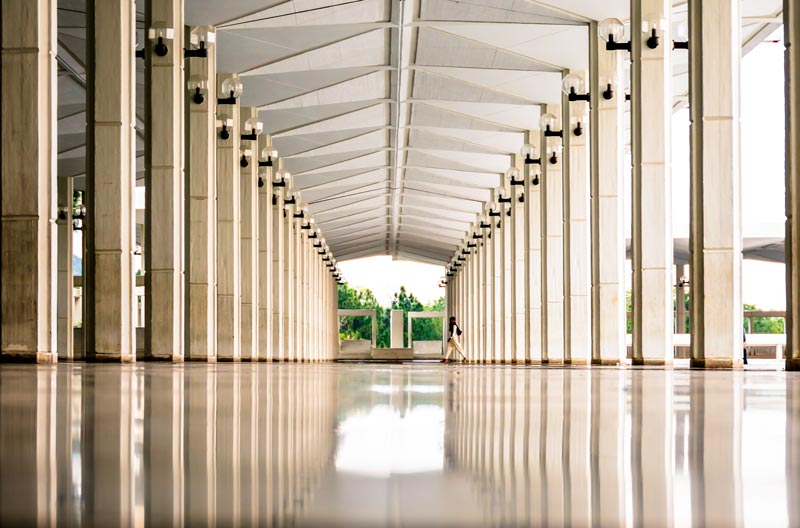 AM Facility Services uses industry leading equipment, supplies and chemicals. We only deal with highly reputable suppliers since we take pride in the quality of our work. No one wants to hear about machine breakdowns or supply issues on job sites. Our concrete grinding and polishing machines each way over 1200 lbs and provides more than enough pressure to the floors to get the job done right.
Contact us today and see for yourself why we are trusted with providing concrete grinding and polishing services to fortune 500 companies from Chicago all of the way down to Atlanta.
Our concrete grinding and polishing system works perfect for warehouses, grocery stores, industrial buildings, distribution facilities, fire stations, schools and universities, parking structures, showrooms, and many more.
AM Facility Services Polished Concrete Floors Rejuvenation Process
Extremely worn down floors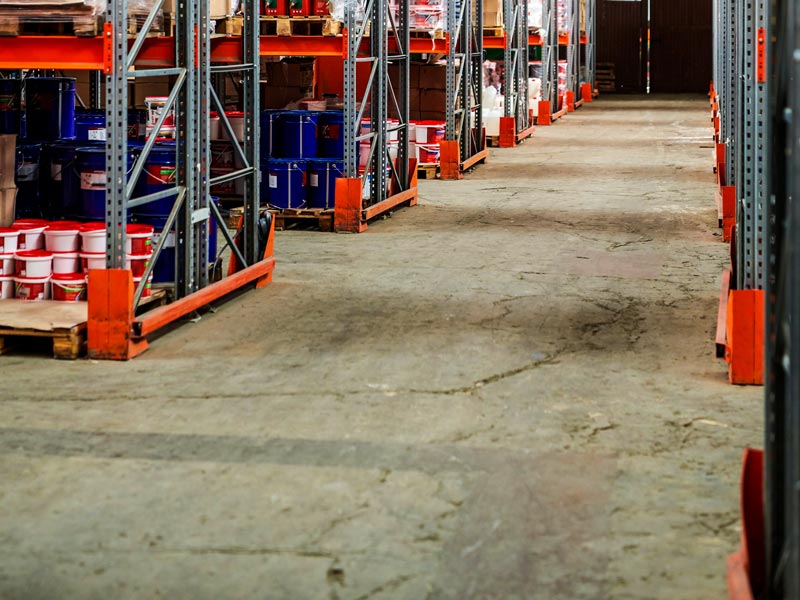 If your polished concrete floors are worn down to the level where the aggregate is fully exposed, we would need to grind the floors with low grit metal bond diamonds. These metal bond diamond pucks provide a very high grinding efficiency with low grinding force which flattens uneven surface of exposed aggregate without damaging the floors. Once we go through 3 different grit steps of
Medium worn concrete floors
This category includes floors that are fairly dull but do not have much of physical imperfections. Polished floors can lose shine over time, which is normal. Shine can be brought back up by utilizing a proper concrete polishing and sealing process. However, if your floors start showing etching, spider webs or have deeper stains, we would need to start with higher grit metal bond diamond grinding. This process will have less steps than concrete grinding process from the previous option due to your polished concrete floors being in a better shape.
Grouting and patching
After the metal bond diamond grinding steps have been completed, we then fill in the cracks with a cement like solution to ensure an even and flat surface all throughout your polished concrete floors. This step is optional but we do advise our clients to get the floor cracks filled in to prevent concrete from chipping and cracks expanding.
Densifying polished concrete floors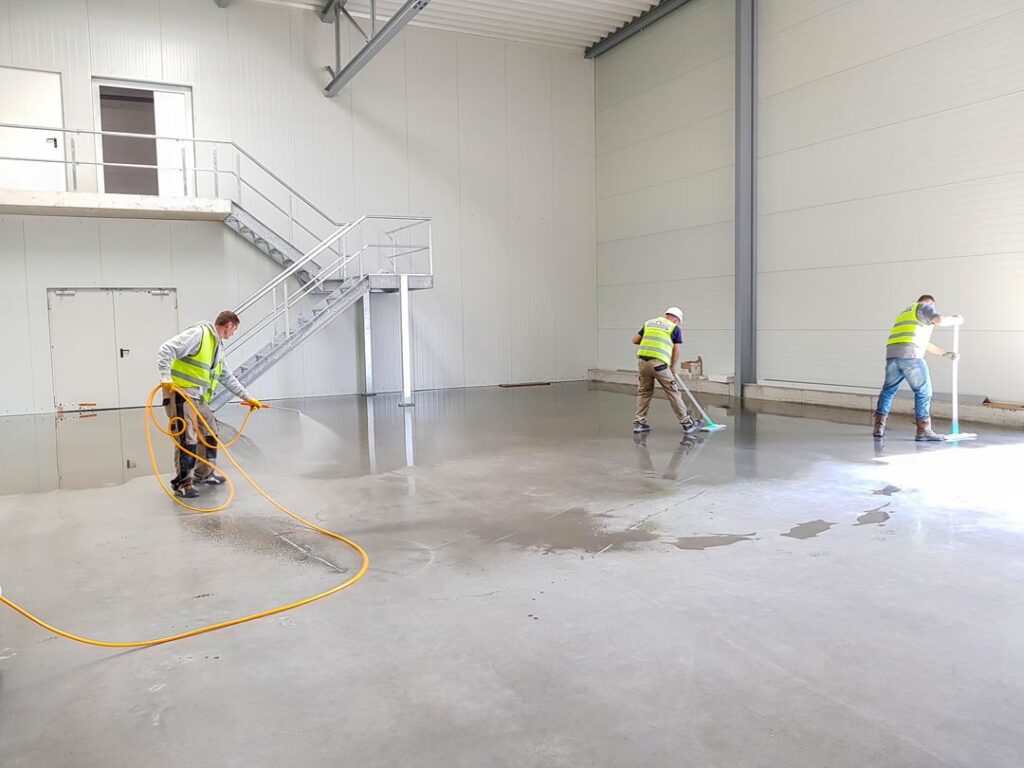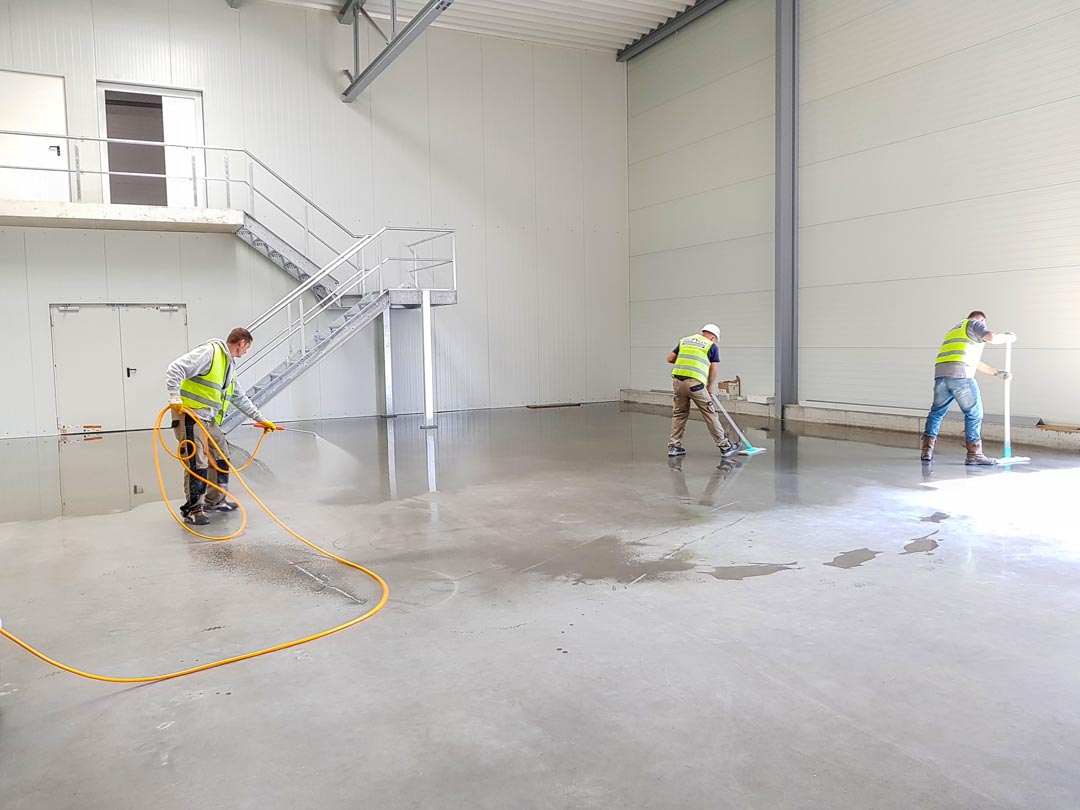 While the sequence for this step varies concrete floor to concrete floor, it is one of the most important steps in the process to ensure the durability of your polished concrete floors. While usually applied after 80 grit grinding step, different floors can respond to densifier better after even 200 grit grinding. You may ask, what does densifier do exactly to your floors? To put it in short, silicates react with the leftover calcium hydroxide in the concrete which then hydrates the floors. Concrete floors that have been properly densified are much less prone to dusting and have a much higher resistance to absorbing spills that cause staining to occur.
Knowing exact amounts to apply to each concrete floor is crucial to the whole concrete grinding and polishing process. Too much densifier at the wrong stage of the process will leave you with clouds of dust and dull white-ish floors. The right amount of densifier on your polished concrete floors and you are left with a deep color and healthy looking floors. We densify floors twice if coloring dye is involved. First time usually is applied after 80 grit and the second very light coat is applied after adding color to lock the color in better into the floors.
Concrete floor polishing step
This step involves diamond grit cutting pucks placed on our heavy duty SASE machines. For less aggressive grinding we usually start at 100 grit, then go to 200, 400, apply color (optional), densify lightly. Next we continue with 800 grit, 1500 and then 3000 grit on the heavy duty grinders. We use this type of equipment for the which gives the best pressure to the ground possible and makes sure that the concrete pours are closed off properly. Light duty equipment does not provide enough pressure to close off the polished concrete floors leaving them more prone to staining and cracking in the future.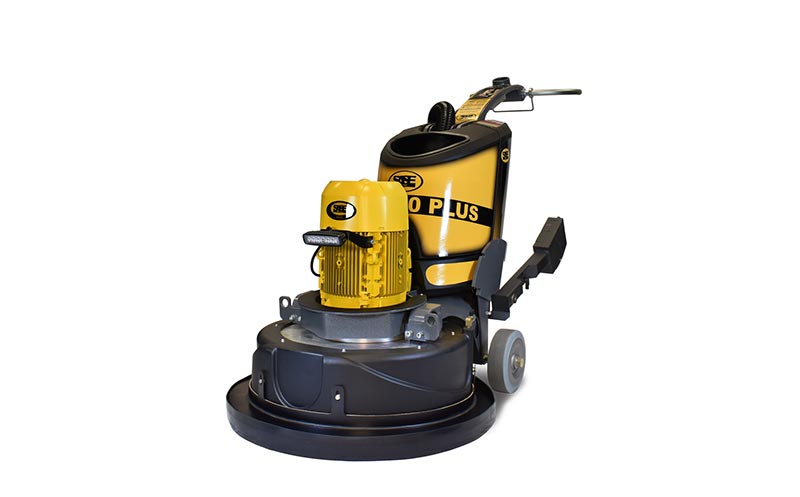 With longevity in mind, we do quite a few steps to make sure that your floors will not only look great but will last a long time. When we get called to fix the floors that look wavy as a result of the previous concrete polishing contractors rushing to complete the job. We treat our polishing steps the same way that we treat our grinding steps. Do it right the first time without rushing.
Applying sealer to polished concrete
One of the last steps to our concrete grinding and polishing process is sealing off the floors before burnishing concrete. The sealer penetrates into the concrete floors and forms an extra breathable layer of protection as well as gives a much deeper and better look to the polished concrete floors. Have we mentioned that the sealer bumps up the gloss readings as well? Using proper sealer is extremely beneficial to the polished concrete floors in the long run.
Burnishing polished concrete floors
As an extra measure and another step in increasing the overall look of the floor, we like to slowly go over the sealed floor with a 3000 grit high rpm concrete floor burnisher. This step heats up the floor and helps the sealant to settle into the concrete.
AM Facility Services New Market – Concrete Polishing Chicago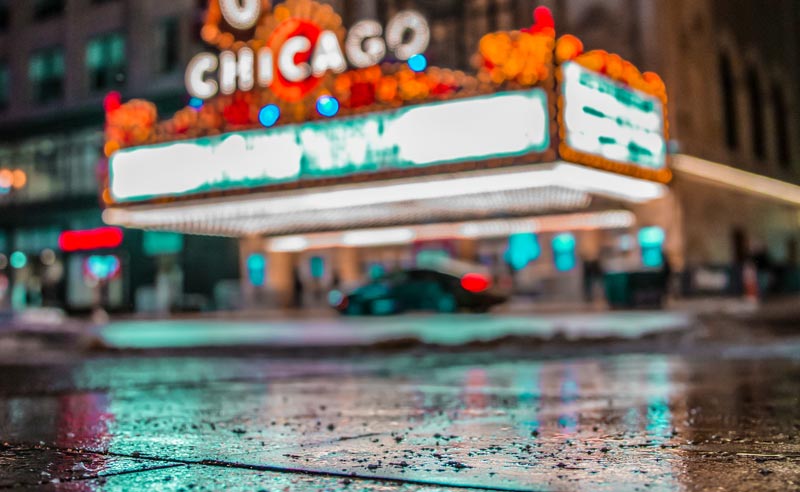 We have our concrete polishing teams scattered in Indiana, Kentucky, Ohio, Michigan, Illinois, Missouri. However our main focus market is concrete polishing Chicago as well as concrete polishing in Indiana. To check on our team availability please use the contact form on our home page. Do not forget to specify which location you are contacting us from. Urgent project? Give us a call at 1-800-956-3862 and let's get your polished concrete floors the shine and durability it deserves!
If you want to read our concrete polishing posts please click the following links: