AM Facility Services was founded in 1999 and has quickly grown into one of the largest regional providers of floor care in the Midwest. We specialize in cleaning, buffing and maintenance of concrete and VCT floors as well as provide ancillary services to big box and grocery chains. AM facility Services understands that the quality and dependability of our work is critical to our client's success. We work closely with our customers to understand their needs and then design programs to meet their standards. Our goal is to exceed expectations day after day.

PEACE OF MIND
Our clients depend on us to provide professional floor cleaning services, relying on our experience, commitment and attention to their needs.
CONSISTENCY and MEASURABLE RESULTS
Our clients range from large supermarkets to big box stores, names that are familiar to you and the metrics we use provides consistent feedback on performance and benchmarks.
DEPENDABILITY
We conduct ongoing training in safety, new products, and new methods to provide our clients with the best possible cleaning services available. Services they can trust.
Hard Floor Maintenance Programs
• Scrubbing
• Stripping
• Refinishing
• Concrete/Stone Polishing
We provide complete care for concrete and VCT floor surfaces. Our highly trained floor tech will consistently provide the highest level of service.
Vinyl Tile Strip & Wax
We offer a complete strip down, seal, and recoat wax service for Vinyl Tile that needs to be restored; we also offer Vinyl Tile Maintenance services for newly installed tile that needs to be strip cleaned, sealed, and waxed; or existing vinyl tile that just needs to be buff cleaned and waxed.
Concrete Scrub & Wax.
You'd be surprised to see what we can do with your plain Concrete Flooring, or maybe you have the colored concrete flooring, in either case a good scrub clean, seal, and wax can bring your concrete flooring to life! Plus, having your concrete waxed makes your routine mopping go much easier and produces a much cleaner result.
Service Expectations
We are committed to consistently delivering "Best in Class" service and exceeding customer expectations for floor and store appearance each day.
Our Promise:
Ensure two-way communication is maintained with store management and the contract administrator for all floor care issues, inspections, project work, and requests.
Visit stores weekly to ensure a proactive approach versus being reactive to changing store conditions.
Ensure completion of scope of work regarding entrances, backroom & dock areas, and supply area are kept clean and organized.
Ensure sales floor is maintained in a manner exceeding expectations regarding gloss levels and all corners and edges are clean.
Ensure all projects are properly coordinated, scheduled, and executed.
Ensure Daily Service Hours are monitored and maintained to Customer standards.
Ensure compliance to all safety procedures and other Customer policies.
Concrete Rejuvenation and Polishing
Polished concrete is an excellent long-term investment. Here's why…
Concrete polishing is cost-effective!
extremely durable and long-lasting
easy to clean – nothing more than a damp mop is required
scuff-resistant surface
no re-coatings required, saving labor and material costs
Polished concrete is beautiful!
allows the beauty of the aggregate to shine through
depending on composition, may create rustic look with imperfections
can be polished to a high gloss
Polishing concrete improves lighting!
the reflectivity of the polished surface brightens up the workspace
may save on cost of overhead lighting
Before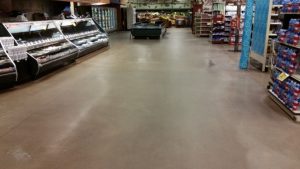 After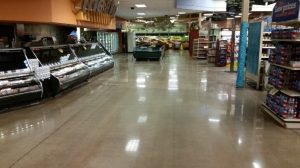 Additional Value-Added Services
While we provide Concrete and VCT floor maintenance and project work, we also can provide the following additional services:
Power washing
Full janitorial services
Office cleaning
Fuel station cleaning (inside and outside)
Restroom and preparation area deep cleaning and sanitizing
Carpet care and extraction
Case cleaning – currently being completed for Kroger in 5 states
Day Porter services
Concrete floor polishing, restorations and rejuvenations
Related special projects on demand
Founded in 1999, AM Facility Services began providing floor care services as a sub-contractor for a nationwide vendor at grocery and retail chain accounts. In 2001, the company began providing direct floor care services at 2 Marsh Supermarkets locations and subsequently expanding to 20 locations in Indiana and Ohio. In 2007, the company was awarded the opportunity to service a Kroger location in the Central Division located in Indiana. Also, during 2007, the company was restructured to enable better service and support to our clients including procuring a new facility and opening a warehousing operation providing equipment parts, repair and maintenance for our equipment located at client locations. Since 2007, we have achieved sustained and controlled growth currently providing floor care and janitorial services at over 500 client locations in 9 states (Michigan, Illinois, Missouri, Ohio, West Virginia, Kentucky, Tennessee, Iowa, and Indiana) with a combination of both concrete and VCT floors. We also provide extensive refrigerated and frozen food case cleaning and testing in 5 states (Michigan, Indiana, Illinois, Kentucky, and Ohio) and concrete polishing in assigned concrete floor locations in 12 states.
We went from doing less than 30% of the floor cleaning for Schnucks to 100% based upon our performance and relationship with them.
In the latter part of 2014 through 2015, we significantly increased out internal personnel infrastructure to better serve our clients. Additionally, we have invested heavily in new equipment to enable us to provide additional concrete floor services.
We have the financial and personnel resources required to successfully implement a program to transition to and provide ongoing "Best in Class" service.