Concrete Polishing vs Epoxy Floor: which one is for me?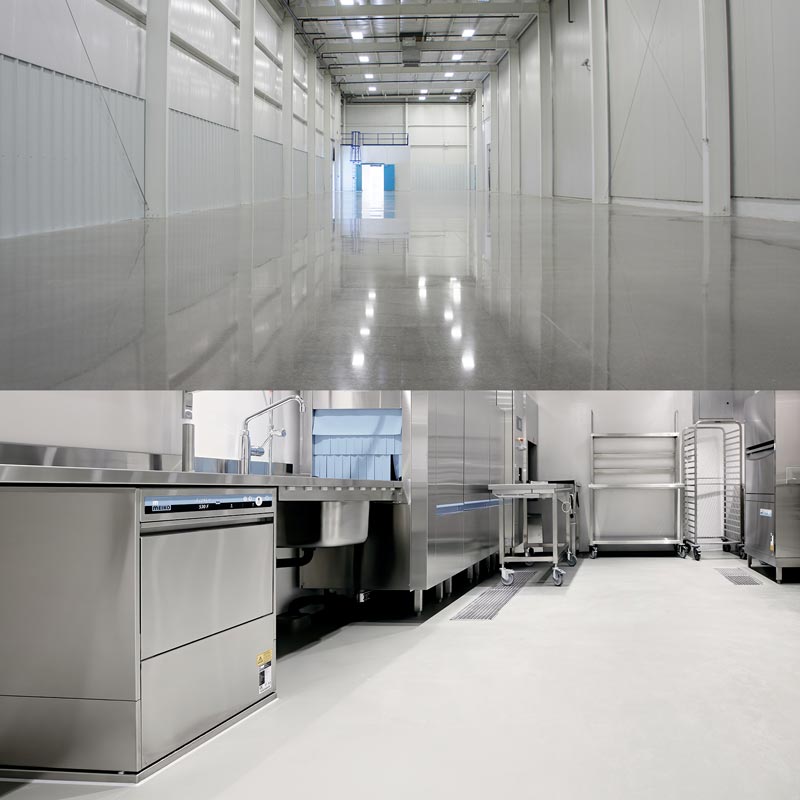 When deciding between a polished concrete floor or an epoxy floor you should get a full understanding of both types of floors. Concrete polishing vs epoxy, which is the best option for your project at hand? It can be challenging to decide, as there are several factors to consider which include pros and cons of both.
Many entrepreneurs, business owners, and property managers know that they would like something low-maintenance, durable, and long-lasting, enhancing their space's style and appeal. Still, beyond that, you may have trouble determining what is the best choice for you when having to choose between concrete polishing vs. epoxy. 
What floors are the best option for your particular needs?
The decision mainly comes down to two factors: your budget and how you will use your space. If cost significantly impacts your decision, your chances are that you will choose polished concrete.
The simple reason for such a decision is that polished concrete floors last much longer, concrete polishing cost less than epoxy application, and polished concrete is easier to clean. These being the most common reasons why more business decision-makers opt-in for polished concrete for cost-saving reasons alone.
When the surface is only subject to light to medium use like in homes, offices, commercial spaces, and other low or light traffic areas, polished concrete makes a lot more sense than epoxy. 
For installations that require a chemically resistant surface that can withstand exposure to hazardous chemicals and heavy-duty wear on floors, epoxy is often the best option. Due to these configurations' demands, some epoxy surfaces may only last up to 5 years. In comparison, polished concrete floors may require rejuvenation every ten years. It is worth mention that super heavy-duty epoxy surfaces made for heavy-duty machinery traffic can last over twenty years without having to be re-done.
Epoxy coatings are very versatile, so they can be customized to suit your needs. Due to the ease of its customizability, you see epoxy in garages, warehouses, chemical plants, commercial kitchens, hospitals, food processing buildings, and a wide range of other industrial settings.
Since polished concrete and epoxy coatings have their own merits and qualities, determining which might be the best option for your space depends on a thorough understanding of both options. Let's explore these concrete flooring alternatives better to understand the best choice for your particular needs.
Epoxy concrete flooring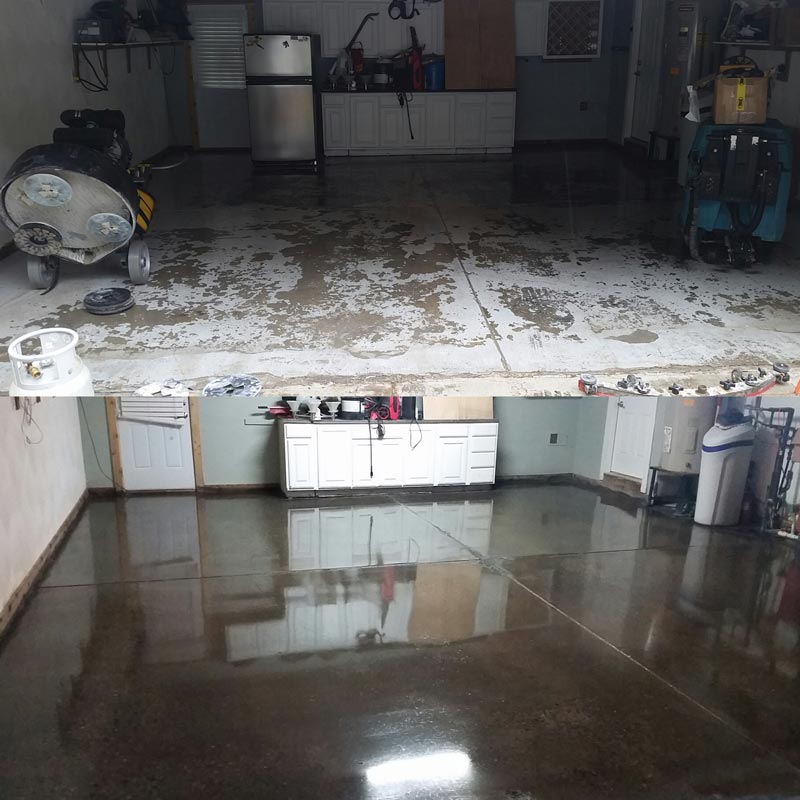 Epoxy coatings bond to concrete, creating a chemically resistant surface that can withstand almost any traffic level during the first half of its life cycle. When applying epoxy, concrete polishing contractors would have to "roughen-up" the concrete surface to better bond with epoxy.
Epoxy concrete floors are a good option for spaces that may encounter water or chemical spills, many pedestrian or machine crossings, or other substances and activities that would quickly degrade polished concrete floors.
There are many benefits to using an epoxy concrete sealer. One of these is that it helps to protect your concrete from water, moisture, and stains. When you use the right product, you can help to keep out the elements and maintain your concrete for many years to come.
If you have ever worked with concrete projects and tried to seal your concrete yourself, you may have found that the process was very time consuming and difficult. With an epoxy application, you can save both time and money by using this type of coating.
Epoxy has unique features that will help prevent any water from getting on the concrete. You will have a concrete sealer that will not only keep water away but will also prevent stains from forming either.
Because there are so many advantages to using an epoxy concrete sealer, there are a few disadvantages. One of these disadvantages is that the sealer will not stand up to heat very well, especially direct heat. Yes, that would mean no burnout on your epoxy floors! 
Another disadvantage of using this type of concrete sealer is that if the sealer gets too old or it is no longer working correctly, it may begin to weaken over time. It is essential to ensure that the sealant stays strong by using it regularly.
Epoxy is a smart way for commercial flooring to be maintained. It's formed of two main ingredients, a hardener, and a solvent. When the two components are combined, they make a highly resilient substance.
In its solid state, epoxy has a unique ability to resist staining and oxidation. This makes it ideal for use in areas where there's a lot of moisture. It's also resistant to mildew, which can be a problem for some epoxy products. When an epoxy floor is installed, the product is applied to the ground. After that, the entire floor is protected, making it waterproof. This could be beneficial if flooding occurs and you have to call a company such as Orange Construction to the rescue. If your floors are waterproof it mitigates water damage on its own are much less consequences follow.
Epoxy floors have the property to prevent the formation of cracks in concrete. However, if you're looking for a non-porous product, then epoxy may not be the one for you. Epoxy concrete floors can be scratched, scuffed, or worn down if left to sit in certain conditions for too long.
While most applications are commercial, some home garages have these types of flooring. Just like polished concrete floors, epoxy can also be an excellent choice in other types of installations where ease of maintenance and durability are essential.
One of the drawbacks of epoxy vs concrete polishing is that it is more expensive to install, it will last less, it is costly to replace and remove, it does not look great once it starts chipping away. However, before its half-life, epoxy does a great job of withstanding all kinds of traffic.
An epoxy concrete floor has many other advantages that go beyond its durability. If you are looking to implement design aspects into your floors with some flashy or unique colors, epoxy is an easy choice.
Depending on the style you want, epoxy can give your floors a modern or classic touch and complement a space with an industrial look, luxurious, or anything in between. 
Whether you are looking for an interior or exterior flooring solution, epoxy coated concrete floor can be an excellent option for your needs. In high-traffic facilities, such as manufacturing plants, warehouses, showrooms, hospitals, and even airplane hangars, epoxy floors can withstand these industries' harsh wear and tear.
Since you are now more familiar with epoxy concrete floor coatings, let's look at polished concrete floors.
Polished concrete floor: the common choice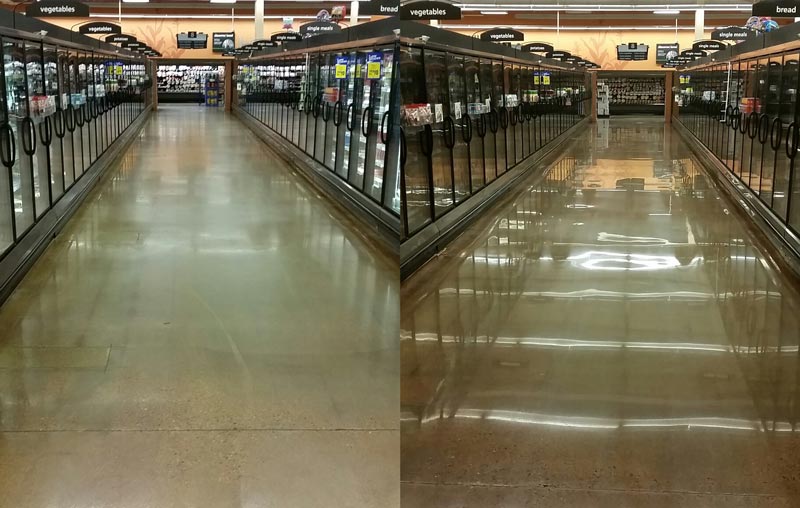 Like epoxy flooring, polished concrete flooring is affordable, attractive, customizable, and is the right ecological floor choice for many establishments.
Polished concrete floors are designed to provide high-quality, durable, and visually appealing surfaces for commercial and residential use. They are available in a wide range of finishes, including traditional sand, stone, pebble, smooth marble, travertine, and textured concrete. A polished surface is highly resistant to stains and scratches and can be restored to its original look with professional refinishing.
Polished Concrete floors are designed to be easy to maintain and come equipped with unique features like a polymeric finish and interlocking elements to ensure the floors remain intact and secure over time. Polished concrete can withstand extreme temperatures and pressures from heavy equipment and is non-combustible, making it ideal for the floor coating and concrete refinishing needs of industrial and commercial applications.
Polished concrete floors are one of the least expensive floor types to install and can be installed by most professional contractors. The process is pretty straightforward in most cases and requires little work from the establishment owner besides clearing out the area.
Polished concrete floors come in various finishes, including marble, pebble, and polished slate. Polished concrete has a wide range of colors, such as reds, blacks, browns, greens, browns, and reds. The variety of colors can be customized to match the decor of any area in the building.
Polished concrete is a durable and long-lasting concrete floor. Its durable and long-lasting characteristics make it an ideal material to apply for residential and commercial construction purposes. The high strength and density of polished concrete give it a smooth and shiny surface. High resistancy to scratches and stains, making it the right choice for floor solution.
Polished concrete has a unique interlocking feature that allows you to put together the pieces as a unit quickly. This interlocking feature is perfect for floor coatings and other finishing techniques. This unique feature makes cleaning and polishing concrete floors very easy and fast, making it ideal for a flooring solution.
Concrete sealing is a necessary process when it comes to concrete floors. Sealers are often applied during the concrete rejuvenation or surface finishing process. The purpose of a concrete sealer coat is to add a beautiful, uniform finish to your floor and an extra layer of protection.
Polished floors can add beauty and elegance to any building. When you choose to use polished concrete as a floor coating, you can guarantee that your floor will not only look beautiful, but your hard-earned investment will also last longer. The high durability of polished concrete makes it a long-term solution to keep your investment looking attractive for many years.
The concrete polishing process starts by grinding the concrete surface to remove any imperfections. After this step is completed, a concrete polishing machine uses diamond polishing pads to create a smooth, durable surface that matches the shine you want, be it a low-gloss matte finish, shiny mirror-like finish, or anything in between.
Polished concrete floors are great in high-traffic facilities and spaces where allergen reduction is a priority. The concrete polishing process does not include harsh chemicals and produces little to no toxins during installation, making it a safe and attractive option for many setups. 
Although polished concrete increases light reflectivity by up to 100%, it is not as reflective as epoxy. Either way, your light bill should be going down no matter which one you choose between concrete polishing vs epoxy.
As we have mentioned previously, concrete polishing cost less money than epoxy installation. The job is more straightforward, and when the time comes to refresh your floors, it will be much cheaper to do so on polished concrete vs epoxy.
Polished concrete is affordable to install and easy to maintain, while it is also stylish and attractive. Polished concrete flooring can be an excellent option for your home, office, grocery store, commercial space, or any home. 
Differently from epoxy, when polished concrete is wearing off, it just starts looking cloudy, loses shine, and when it wears down, you can sometimes even start seeing aggregate showing up. However, you do not get the chipped away look you would get from epoxy that needs a replacement.
With a wide variety of style options, including numerous stain colors, marking and streaking possibilities, and other design alternatives, you can design a polished concrete floor that will impart precisely the atmosphere and shine. The unique aesthetic you want for your space.
The final verdict on concrete polishing vs epoxy
As you can see, the choice between concrete polishing vs epoxy isn't as apparent as one would hope. Both of these flooring solutions mentioned above have a lot of pros and cons.
If you are looking for a durable flooring solution for heavy machinery and money is not an issue, you should go for epoxy flooring. If you are looking to have super colorful floors with bright colors or very reflective surfaces, then, once again, epoxy should be your choice.
However, if money is in question, but you still want to have great looking floors with a mirror-like reflection that doesn't break a bank, then concrete polishing is the way to go.
Keep in mind that while epoxy will withhold extreme heavy-duty traffic, it will still get scratches and is prone to getting damaged due to impact. On the other hand, polished concrete is scratch resistant but will wear quicker if it is exposed to heavy-duty mechanical traffic.
Rejuvenation for polished concrete is much cheaper than a refresher on epoxy. While rejuvenation of polished concrete will be much less expensive than the initial concrete polishing, it is not unusual for epoxy floor recoating to cost more than the initial installation. Removal of epoxy might quite possibly be more expensive than installation as well.