Commercial Janitorial Services of High-Quality
When large businesses or buildings come to mind, you probably visualize a janitor cleaning the place up. Commercial janitorial services happen to be a necessity for large structures (such as schools, hospitals, and workplaces). Lack of a cleaning service or person can result in dirty and disheveled properties.
Duties of a janitor mostly revolve around cleanup and maintenance jobs. Many building managers have a janitor on staff. Others hire cleaning companies like ours to perform these duties. The services of a janitor usually are performed when no one is in the building (usually after work hours, like in the early morning or late evening).
A cleaning company maintains the cleanliness of a building. It also takes the burden of cleanup away from existing employees, allowing them to focus on doing what they were hired to do.
We service these types of buildings:
Manufacturing plants.
Medical facilities.
Retail stores.
Condo associations.
Governments and banks.
Universities and schools.
Office buildings.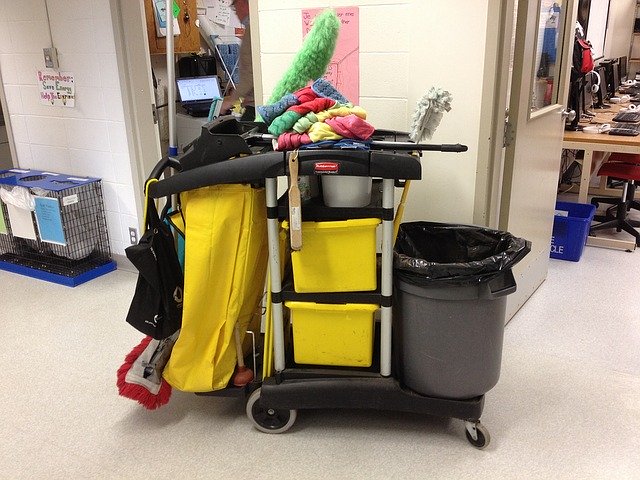 What Separates Office Cleaning from Commercial Janitorial Services?
Office cleaning is a common task conducted in large-sized buildings. In addition, services that come with office cleaning are not very different from the ones that come with janitorial duties. Many of the tasks are identical. However, office cleaning tasks are assigned to individual staff members. Occasionally, these employees may be existing office employees. Other times, they are a third-party cleaning company. Besides janitorial services, as mentioned earlier, office cleaning tasks usually involve dusting computer equipment, cleaning kitchen/break rooms, and watering plants, among other duties.
You can review our Better Business Bureau profile here: AM Facility Services on BBB.
Next, you can contact us to schedule a call to discuss how we can help: Contact Us.
However if you are looking for a different kind of service, we provide the following: