Concrete Polishing Contractors That Are Right For You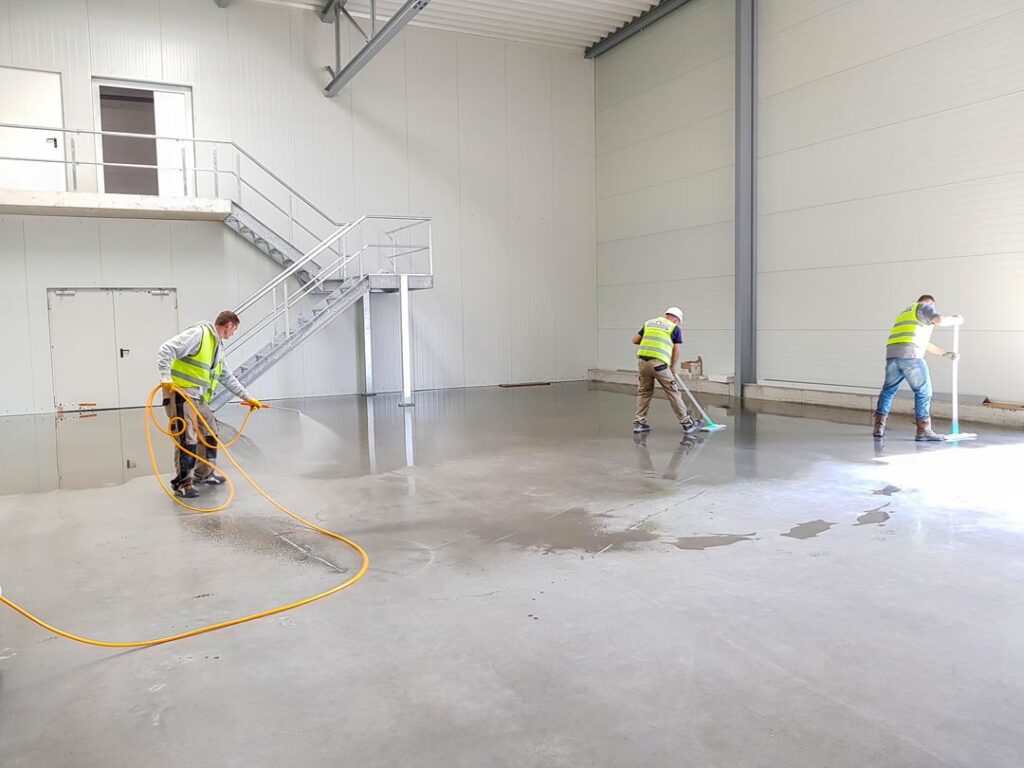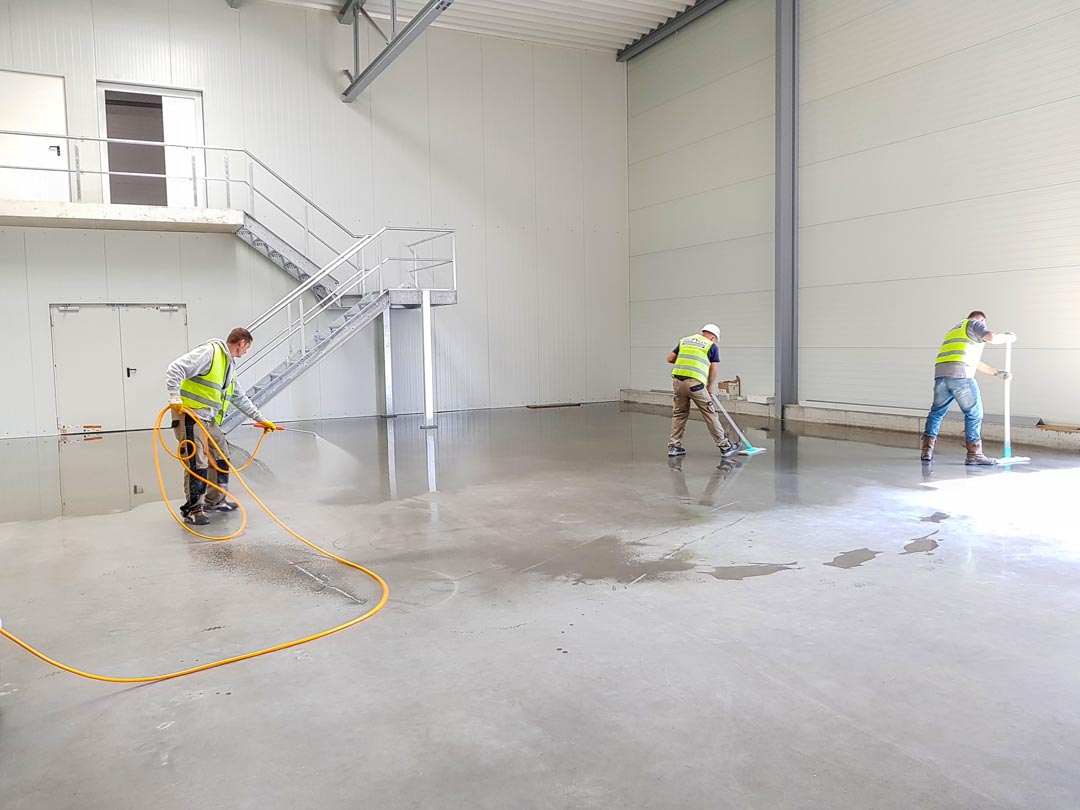 Concrete floors are a cost effective solution for your flooring needs. Concrete floors are everywhere; from hospitals to sports arenas. They are becoming more and more popular due to its durability, low maintenance and great looks. However, when not properly maintained, concrete floors can start to fade or even chip away, especially in high traffic areas. In order to have your concrete floors maintain its top shape, you should consider hiring concrete polishing contractors. When hired, they will handle the maintenance for you and might even save you from having to go through a concrete restoration service.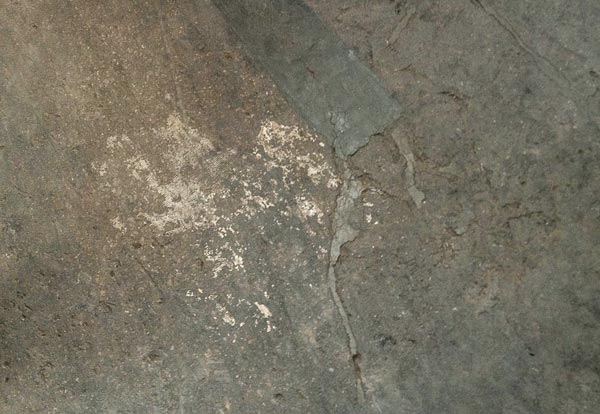 Concrete is one of the most durable and long lasting materials used in making concrete floors. Due to its known durability, many forget how important concrete floor maintenance is. Proper maintenance can go a long way to not only extend the lifespan of the concrete floor, but it can also make it look more attractive and clean. If you are starting to notice spider webbing occur throughout your concrete floors of if they start losing gloss, chances are it's due to improper maintenance.
What are concrete polishing contractors
Concrete polishing contractors are professionals that are highly trained in concrete floor maintenance and restoration. Their scope of work ranges from light concrete polishing to full scale concrete rejuvenation. If the floors aren't worn down to the extreme levels, concrete polishing can be used to bring them back to looking almost like new again.
Check out our concrete polishing, cleaning and restoration page by clicking here.
Concrete polishing contractors scope of work
When the crew arrives at your location, you should have already had everything cleared out of their way. Concrete polishing contractors come in ready to work, it is imperative that your team has the floor ready for their arrival. It might get a big messy or dusty at times, so it is best not to have any inventory laying around that could get damaged. Before the crew arrives, you will be contacted for an assessment of the work area and a schedule will be put in place.
Concrete polishing steps can consist of the following:
Sweeping the area to clear out any debris, trash, dust.
Use auto-scrubber to wash the area thorough with a neutral cleaner agent to get the stubborn mud and dirt up.
The following steps will depend on what shape is the floor in. If the floors are very worn down, then the grinding steps will be needed. If they still have decent shine but just look dull, polishing them up should do the job.
Badly worn down floors would get started on with low grit grinding to remove surface imperfections by shaving off the top layer slightly.
Densifier gets applied to close out the pours and improve the durability your concrete floors. Properly densified floors have a much deeper color, better shine and great durability.
Polishing the floors back up with multiple step cross-passing system for the best shine.
Sealing your concrete floors with sealers of your choosing.
The final step will be using a high speed concrete burnisher to heat up the sealer and give it a high grit polish for the best shine.
After the job is done, the area will be professionally cleaned and there should be no concrete mud or dust present before crew's departure.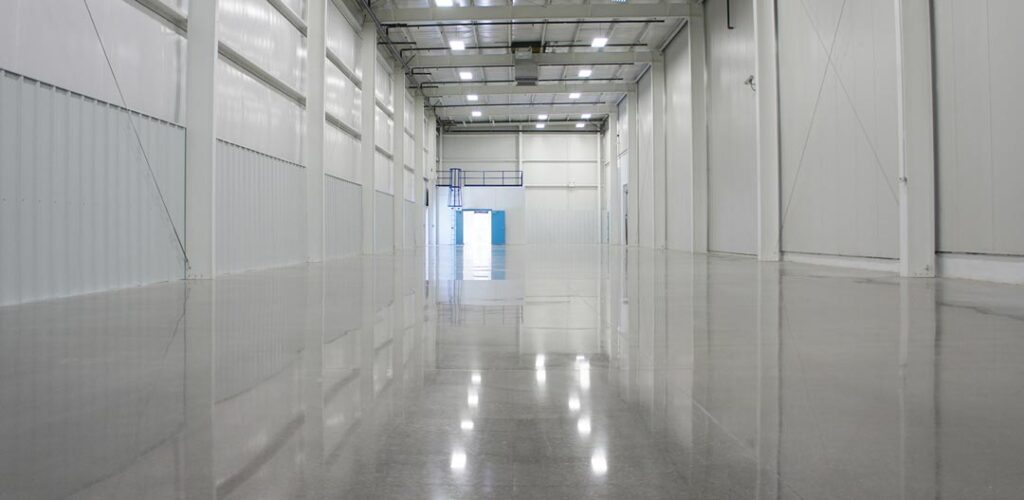 Making your concrete floors last
A major tip for maintaining your newly polished concrete floors is to clean the floor as often as possible. Of course, the frequency of cleaning should be typically determined by the amount of traffic the floor receives. That said, the high traffic areas of the floor will definitely need frequent cleaning as opposed to those areas that are hardly used.  Nevertheless, one of the most important things to keep in mind is cleaning up spills as soon as they occur. Depending on what is spilled, it could cause permanent damage to the floors.
Acidic spills such as juice, bleach, fruits, battery acid, etc. can lead to permanent damage which would require restoration. Acidic spills do not cause stains, they cause etches occur on your floors. Regular concrete polishing cannot remove etches since they must be grinded out with heavy machinery. By any means, do not let spills sit for prolonged periods of time.
Proper Concrete Floor Cleaning Procedure
Polished concrete cleaning procedure does not have to be complicated. Just follow the following steps and you'll extend the longevity of your concrete.
Use a microfiber pad to dust mop your concrete floors on a daily basis. This will remove dust particles from the floor as well as larger debris. Proper floor sweeping before washing the floors will prevent from water streaks being left behind your auto-scrubber squeegee and will reduce possibility of vacuum clogs.
Ensure that you use clean water and clean mops whenever you want to wet mop your floor. A mop and a bucket is highly recommended when cleaning smaller areas of your polished concrete floor, whereas an automatic floor scrubber equipped with a nonabrasive pad is ideal for larger surface areas.
Remember to use dedicated concrete cleaner or neutral floor cleaner. If you do not have either one of these, you should resort to using water only.
It is imperative to clean off all spills and stains from the floor as soon as possible. The sooner you clean it up, the less chance it has to get absorbed into the surface of the floor.
We strongly recommend to have your concrete floors polished (high grit concrete polishing) once a month for the best shine. You can hire out concrete polishing contractors to do this for you on a scheduled basis. They will apply concrete treatment agents which prolongs the life of your floors.
If you are looking for a concrete polishing contractor near you, AM Facility Services is currently servicing Indiana, Illinois, Michigan, Missouri, Ohio, Kentucky and Tennessee. Contact us today!
Have experience in concrete work and are looking for new opportunities? You can apply for a concrete polishing or concrete restoration position by filling out this application.